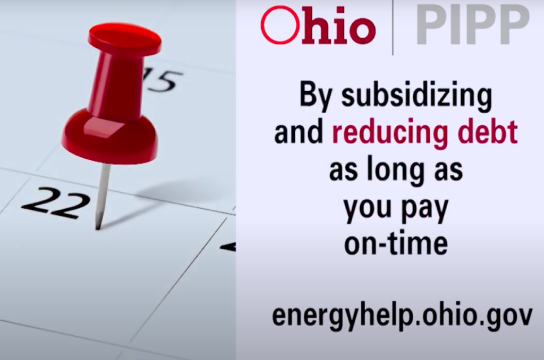 PIPP Plus Program
The Percentage of Income Payment Plan (PIPP) helps eligible Ohioans manage their energy bills year- round. Payments are based on a percentage of household income and are consistent year-round.
If your home is heated with gas, you will have a monthly payment of 6% of your household income for your natural gas bill, and 6% of your household income for your electric bill. If you heat with electric, your monthly payment is 10% of your household income. The balance of your utility bill is subsidized by the state of Ohio. There is a minimum monthly payment of $10.00.
Paying on-time and in-full each month reduces your outstanding balance. If you make 24 on-time and in-full payments, your outstanding balance with your utility company will be eliminated.
Once you are enrolled in the PIPP program, you are required to re-verify your income each year. You must also be caught up on all your PIPP payments by your Anniversary Date, which is the date you signed up for PIPP. Failure to report changes in the household income or household members, missing a payment, or not re-verifying your income can result in being dropped from the program.
Who is eligible for PIPP?
Ohioans with a household income at or below 150 percent of the federal poverty guidelines and have utility service from an electric or natural gas company regulated by the Public Utility Commission of Ohio are eligible for the program.
A household applying for PIPP must report total gross household income for the past 30 days (12 months preferred) for all members, except wage or salary income earned by dependent minors under 18 years old. Both homeowners and renters are eligible for assistance.
For 2020-2021, the income levels are:
| Size of Household | Total Household Income 12 Months |
| --- | --- |
| 1 | up to $22,540 |
| 2 | up to $30,485 |
| 3 | up to $38,430 |
| 4 | up to $46,375 |
| 5 | up to $54,320 |
| 6 | up to $62,265 |
| 7 | up to $70,210 |
| 8 | up to to $78,155 |
For households with more than 8 members, add $6,720 for each additional member.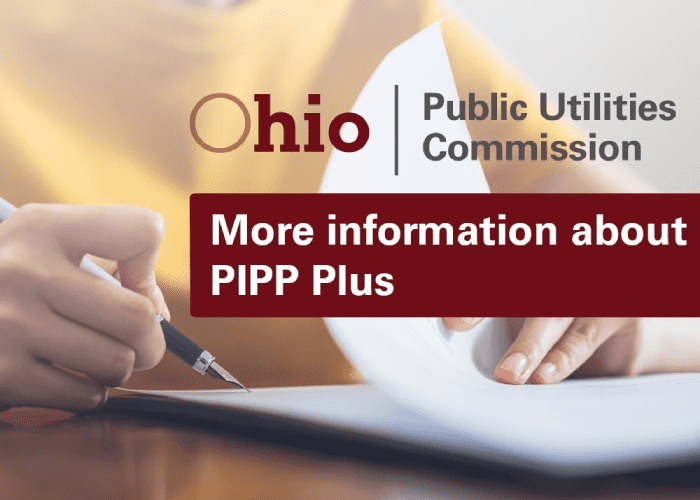 How do I apply?
You can apply or reverify your PIPP online at energyhelp.ohio.gov, by appointment, or by mail. 
SCHEDULING APPOINTMENTS
If you are re-verifying your PIPP PLUS,
you can now apply online by visiting energyhelp.ohio.gov
For online appointment scheduling visit: app.capappointments.com / (online scheduling works best with Google Chrome).
To schedule a phone interview appointment:
28 Day Appointment                                      567-803-0010            
Emergency same-day appointment               567-803-0017
Our phone lines are open Wednesday & Thursday 8 AM to 11 AM to receive an emergency same-day appointment between 12:30 PM and 3:30 PM.
 PIPP Only                                                        567-803-0017
Our phone lines are open Friday 8 AM to 4:30PM to receive a Monday appointment.
 Moving? Contact Columbia Gas to transfer gas services; or Contact Toledo Edison to transfer electric services.
Questions, concerns or complaints regarding your utility bill? Contact your Public Utility Commission of Ohio.
For statewide legal representative in matters related to electric, natural gas, telephone, and water services, visit The Office of the Ohio Consumers' Council.